AmaMagna August Wine Cruise
Do you enjoy the best wine and the highest rated river cruise ships in Europe? On August 4th 2019, award-winning Caymus Vineyards and AmaWaterways—both family-owned and -operated companies known for quality and innovation—will share their passion for wine and the good life while sailing aboard AmaWaterways' new flagship, the AmaMagna, on our Melodies of the Danube river cruise.
You'll discover why Wine Spectator magazine awarded the prestigious "Wine of the Year Award" for the vineyard's 1984 Caymus Special Selection Cabernet Sauvignon, and again five years later for their 1990 vintage. Caymus Vineyards is the world's ONLY winery to have earned "Wine Spectator's" highest accolade twice. However, the Wagner family did not stop there – they were motivated to keep striving to make better wines every year.
Itinerary Highlights
Two exclusive castle visits: Schloss Gobelsburg and Greinburg Castle
Tastings of Austria's famous Riesling and Grüner Veltliner varietals
Special food and wine pairing dinner led by Wine Host Janet Thomas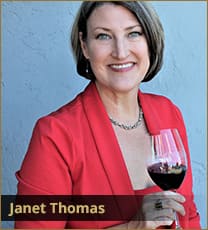 Hosted by Janet Thomas, Wine & Market Relations, Caymus Vineyards and the Wagner Family of Wine
While Janet Thomas hails from a background in International Relations, she discovered her real passion for wine when she began working for Caymus Vineyards and the Wagner Family of Wine in Napa Valley, California. Working in Market Relations, Janet wears many hats, but none so important as having the opportunity to share the Wagner Family's beautiful array of wines with the world. Wagner family winemaking started over 45 years ago and is still family owned and operated now spanning multiple brands including Caymus, Conundrum, Mer Soleil, and Emmolo just to name a few. Next August, join Janet on the beautiful AmaMagna for memorable wine cruise down the Danube river and experience all that the region, and the Wagner Family of Wine have to offer!
Expertly Curated Wine Experiences
Immerse yourself in the many flavors of Europe on one of AmaWaterways unique Wine Cruises, which let you add a unique, epicurean dimension to one of our European itineraries. Like our standard river cruises, guests have the opportunity to join tours that highlight the famous sights in each port of call. These special itineraries, however, offer guests a perfect blend of wine-related experiences and excursions in grand capitals and charming towns. You'll taste local cuisine, discover how wine is made and, of course, partake in tastings — all at no additional cost. Whether you have a seasoned appreciation for fine wine, or simply indulge in a sip here and there, this is a wonderful way to uncork the traditions of the local culture and learn about the region you're visiting.
About the Wine Region – Wachau Valley
Brilliant architectural masterpieces and vine-strung hillsides on the Danube River have inspired artistic creations for hundreds of years. The Romantic Danube journeys through Germany, Austria, Slovakia and Hungary, so you can experience some of the most celebrated wines and sights in Europe's heartland.
Over 3,700 acres of terraced vineyards rise from Austria's illustrious Wachau Valley. Located between the towns of Melk and Krems, this cooler-climate wine region brings a wide variety of refreshing, peppery white-grape wines to fruition. Grüner Veltliner is considered to be the most important grape in Austria. Grown in loess soils by the river's edge, these favored wines offer aromatic stone fruit flavors reminiscent of the terroir. Riesling, the second most popular grape, loves rocky inclines, so it is extensively sewn into the rich hillside. Fruity notes and floral scents surface from these unique whites.
MELODIES OF THE DANUBE (WINE CRUISE)
CRUISE FROM : BUDAPEST TO VILSHOFEN
Let wine and song carry you along the melodious Danube—muse for musicians, artists and poets for centuries. Explore Prague, Vienna and Budapest, magnificent capital cities with storybook architecture and the tales to match. Visit Salzburg, the setting for the beloved film classic, "The Sound of Music," complete with a stop in Mondsee, home of the famed Basilica St. Michael where the movie's wedding scene was filmed. Indulge in the flavors of the region, from delicate, apricot-scented wines of Austria's Wachau Valley to the hearty Bavarian beer at a traditional Bavarian Oktoberfest in Vilshofen. Each bend and twist in the river affords new surprises just waiting for you to discover.
COUNTRIES: AUSTRIA, GERMANY, HUNGARY • RIVERS: DANUBE
Included Features with AmaWaterways and Berwick Travel
SPACIOUS STATEROOMS
7 nights luxury accommodation in an outside stateroom (most with twin balconies)
Computer for internet access
Entertainment-On-Demand in all staterooms featuring free high-speed internet access, movies, a music library and English language TV stations
Mini-fridge, desk and sitting area
Bottled water replenished daily
AN ARRAY OF AMENITIES
Wellness Activities with a dedicated Wellness Host leading various exercise classes as well as discussions on healthy eating and relaxation techniques, both on board and on shore.
Personalized service from a highly trained Cruise Manager during both cruise and land programs
Internet and Wi-Fi access
Sun deck pool with swim-up bar and walking track
Fitness room
Main Lounge with panoramic views and bar
Bottled water in every stateroom replenished daily
Daily entertainment including cultural performances
AWARD-WINNING DINING
All onboard dining in a variety of venues
Regionally inspired cuisine made with locally sourced ingredients
The Chef's Table specialty restaurant
Welcome Cocktail, Welcome Dinner, La Chaîne des Rôtisseurs Dinner, Captain's Cocktail and Gala Dinner
La Chaîne des Rôtisseurs exclusive dining experience
Unlimited fine wine, beer and soft drinks with lunch and dinner
Unlimited sparkling wine and fresh juice with breakfast
Tapas, sandwiches, snacks and refreshments served daily in the Main Lounge
A WORLD OF EXPLORATION
Immersive tours in every destination
Gentle, regular, active and late-riser tour options
Bike tours and hikes
Special Interest Tours
Knowledgeable guides
Personal headset for easy exploration
Airport transfers with purchase of air from AmaWaterways